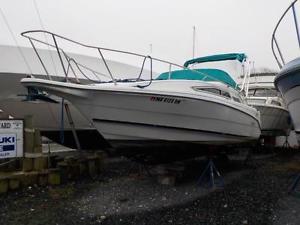 boat details #9974 1992 26' Rinker 260 Fiesta Vee Cruiser Estimated price for orientation:
1 025 $
Category:
Cruisers
Class:
Description
Condition:
Used
Year:
1992
Hull Material:
Fiberglass
Make:
Rinker
Trailer:
Not Included
Model:
260 Fiesta Vee
Engine Make:
Mercruiser
Type:
Cruiser
Engine Model:
5.7L
Length (feet):
26
Primary Fuel Type:
Gas
Beam (feet):
8.6
Hull ID Number:
RNK36785A292
US
AUCTIONS
      holds no reserve auctions of boats and other items starting at $1
For more information please see our          page. For trailers visit our       

        READ BEFORE RETRACTING BID


If you wish to retract your bid, click to send us an email stating your reason and we will cancel your bid within eBay's rules.  Due to past abuses of this procedure, anyone who retracts their own bid will be permanently blocked from bidding with us.


WE MAY      REQUEST YOUR CONTACT INFORMATION
   

As part of our      ongoing efforts to ensure bids are made only by serious, bona fide bidders,      we frequently request eBay contact information on bidders and may e-mail or      telephone bidders making large bids. We reserve the right to cancel      bids from any parties with bad e-mail addresses or phone numbers or where we      cannot otherwise verify the bid.
Inventory #  9974
Location: Middle River, MD
General Description: This 1992 26' Rinker Fiesta Vee 260 Cruiser was damaged when while underway a large wake flooded the boat and engine. Hull is in average to above average condition for a vessel of this age, size and manufacture. Excessive bottom paint prevented examination of the underwater area in detail. Hull in fair condition for age with shiny gelcoat. Not all equipment could be tested as no power to vessel at time of inspection.

Other:

  Arch: Stainless steel radar arch in good condition Gauges and controls, Rinker, in fair condition for age Rubrail in good condition for age. Swim ladder in good condition Swim platform in good condition Transom shower appeared in good condition for age. The transom shower was in place but could not be tested for function.   Trim tabs in poor condition Upholstery, exterior, in poor condition aft but good condition at helm seat. Washdown: fresh water, not tested, condition unknown. Water heater in poor condition Windshield in good condition for age Other windows in good condition for age Florida 6% state sales tax will apply for Florida residents.  Storage charges will accrue after the 10 day grace period. Loading fees will apply if no trailer included. Buyer is responsible for loading fees.
Hull Material: Fiberglass
Height:
Beam: 8.6
Displacement: 5100
Draft:
Engines: Single Mercruiser 5.7/V8/Bravo gasoline I/O engine. Engine flooded by large wake while underway. Unknown if engine was preserved. Hours: 812. Engine appears to have been worked on but does not turn over when started. Engine is seized. There is indication of the bilges in the engine space having been flooded. The engine is heavily corroded and appears to have been underwater to some degree.
Transmission: Bravo outdrive, the outdrive trim strut is corroded through, appears to have been underwater to some degree and the outdrive itself in visually in poor condition, not tested.
Generator / Battery: There is no generator. Batteries (2) #24 lead acid in good condition. Guest 10 amp charger, not tested.
Electronics: Standard Horizon Eclipse VHF only electronics on board, outdated but not tested, appeared in fair condition.
Galley: Galley with sink, Samsung Microwave, Norcold refrigerator and Kohler stove, appliances not tested. Galley is in good and clean condition with old but serviceable appliances. Interior with convertible forward V-Berth, aft quarter berth and head. Upholstery in good condition for age.  Headliner in good condition for age. Carpet in fair condition for age, stained, installed over bilge access, very soft in cabin floor.
Ground Tackle: There is no windlass.
Canvas, Mast Rigging, Sails: Bimini frame in fair condition for age. There is a teal green cover that secures from the windshield to the transom. It is in poor condition although it has been resewn.
Head: Head with sink, shower attachment and manual marine toilet. Shipping: Item sold "where is". Assistance with shipping is generally available; however, buyer is responsible for costs of preparing item for shipment and charges for loading vessel onto trailer or transport.
Special Transport Info:  


TERMS AND CONDITIONS OF SALE
Effective 06/20/03

Item sold "as is, where is"


This item is sold "as is, where is" without warranty of merchantability,        fitness or other warranty express or implied.     

Inspection of items, errors in description


      The       winning bidder ("buyer") is allowed an inspection period to        verify that the item substantially complies with the published        description.  A buyer who has inspected an item prior to final bid        shall be deemed to have accepted the condition of the item at the time of        the inspection but may reserve inspection following close of the auction        only as to any changes in the item between the time of the initial        inspection and a subsequent inspection made within the time for voiding        the sale as set forth herein.  The time period for voiding the sale        and giving notice to USauctions of such ends the earlier of the time        buyer ships or otherwise takes possession of the item, 24 hours        following actual inspection of the item or 10 days following close of the        auction.  In the event there is a material difference between the        item and the item description and buyer desires to void the sale, buyer        shall so notify USauctions by email or by fax to (800) 385-8566 prior to the end of the        time period set forth.        A buyer who voids a sale when the item substantially complies with the        published description shall be banned from future bidding with        USauctions in addition to any other        remedies provided for hereunder.  In the event        buyer properly voids the sale in a timely manner as required hereunder,        buyer's sole remedy shall be to receive a refund of the portion of the        purchase price paid.        

BUYER SHALL HAVE NO RIGHT TO ANY PRICE ADJUSTMENT SHOULD BUYER ELECT NOT TO VOID THE SALE AS PROVIDED FOR HEREIN

.  Neither USauctions nor the owner of the item        shall be liable for any of buyer's costs incidental to the sale including,        but not exclusively, travel, inspection, shipping or repairs.  Any actions undertaken by        USauctions or any item owner to assist buyer with        shipping this item shall not be construed as placing an        obligation upon USauctions or an item owner to ship the item, pay for        shipping  or be responsible for the shipment in any manner        whatsoever.
     


Payment of bid, default


Buyer shall be obligated to pay the lesser of 25% of the bid amount or $25,000  not later than the close of business on the third business day following the  close of bidding. Payment instructions will be sent via buyer's listed e-mail  following the close of the auction. Payment may be made by bank wire, by sending a cashier's check by mail, or by direct deposit of a cashier's check into the USauctions trust account.  

NO CASH OR PERSONAL CHECKS ACCEPTED

. Payment in full by collected funds is  due no later than 10 days following the close of bidding. Buyer shall be  responsible for payment of all applicable sales taxes, registration fees and  transfer fees. In the event buyer fails to make all or any portion of the  initial deposit or final payment as required hereunder, Buyer shall be in  default and Buyer's right to purchase shall terminate.  In the event buyer  defaults, Buyer shall be obligated to pay a fee to USauctions equal to 10%  of the bid amount and Buyer shall further be obligated to pay the owner of the  item any shortfall between the bid price and the amount received from an arms  length resale of the item whether sold at a private or public sale.  Buyer  agrees to pay reasonable attorney fees incurred in any action to collect any  sums due from Buyer.  The venue for any action pertaining to the sale of this  item shall be Broward County, Florida and shall be governed by the law of the  State of Florida      

Removal of items, storage charges, risk of loss


Items must be removed not later than     10 days     following the close of bidding unless other arrangements are made. It shall be buyer's responsibility to make      arrangements for moving the item or, in the alternative, for making      arrangements to store the item beyond the 10 day grace period. It      shall be buyer's responsibility for making arrangements to load and      transport items. Buyer shall give USauctions notice of intent to pick up      an item in sufficient time to ensure the storage charges are paid. When picking up vessels, Buyer shall make necessary arrangements with the boat yard      where the vessel is located with not less than 24 hours notice     before picking up a vessel to ensure the vessel is cleared for transport,     any storage liens are paid, any necessary equipment is available and the     vessel is not blocked in. Buyer assumes risk of loss of the     item as of the earlier of  the time buyer's right to void the sale     terminates or  the time buyer acquires insurance on the vessel. In the event Buyer fails     to remove items in a timely manner, daily storage fees may be charged at the sales     location and/or the items may be removed and stored at buyer's risk and     expense.     

Delivery of title


For titled items, delivery     of free and clear title shall be the responsibility of the  owner of the     item. General processing time of titles is 4 to 6 weeks. In the event the item owner fails to deliver     free and clear title to buyer in a timely manner, Buyer shall have the option of     voiding the sale or of seeking specific performance directly against the       item owner. USauctions shall have no liability to     buyer or the item owner for failure to deliver free and clear title to buyer beyond refund of funds     collected by USauctions to the parties entitled thereto, upon return of       the item in substantially the condition sold. Buyer shall be solely responsible for applying for and taking all actions        necessary to complete registration, titling or documentation as buyer may        desire.