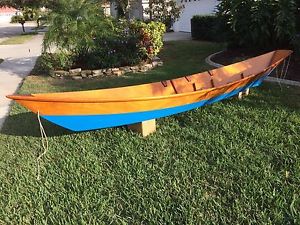 boat details BOAT, Bolger Glouchester Dory style Estimated price for orientation:
1 500 $
Category:
Other Boats
Class:
Description
Rowing Boat, wooden, includes OARS. Three positions for brass oar locks 2 sets, 
Very sleek and fast in the water. Rowing with style!
The best exercise and / or lazy day enjoyment on the water!
Handcrafted fine detail one of a kind, in fine condition, very well made.
Light enough for one man to lift it, strong enough for two people and gear, very stable.
Really great for fishing too.
15'6" long, Very shallow draft.
PRICE reduced !