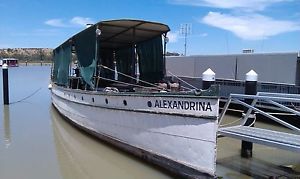 boat details BOAT GRAND LADY OF THE LAKES THE ALEXANDRINA Estimated price for orientation:
55 000 $
Category:
Other Boats
Class:
Description
State:
SA
Year:
1884
Length:
65 feet 6 inches
Included Items:
Anchor, Inboard Motor
Hull Material:
Galvanized iron
This Grand Lady Of South Australia Was Named After The Lake Alexandrina And She Is Looking For New Owners
This Historical Launch Was Built At Govan, Scotland in 1884 She Has A Unique History And Deserves To Be Preserved
At The Grand Age Of 131 Years She Is In Need Of Tender Loving Care
The ALEX As Her Nick Name Is Boat NO. A 21, A Twin Screw Launch Consigned By Allen McFalrane Jnr. Off Wellington Lodge S.A
The Alexandrina Has A Galley, The Copper Rubbish Chute Is Oringinal, A Saloon Done In Kapur Seats And Panelling, Baltic Pine Floors.
There Is Also A Shower, Basin, The Toilet Is Original From MV HEBE The Seat Is From An English Elm Burnt In The Ash Wednesday
 Fire 1983 At Eagle On The Hill. Engine Room In The Middle Of Boat, After Cabin At Back The List Goes On
She Comes With A Book With Some Of Her History.
This Is A Regrettable Sale Due to Ill Health, Lack Of Financial Support.
Please View Photos And All Serious And Reasonable Offers Will Be Considered, This Is A Walk On Walk Off Sale.
PLEASE NO TIME WASTERS.
REGO. Number GM18S Please Message For More Info.
Only Serious Offers With Contact Number Will Be Considered.
  she needs some one that can see history and can finish her of she is 70% done.
., this is an urgent sale make an offer you never know
You could be the Proud Owners of a piece of S.A history.
  
Thank You.